Platinum Capital Management Ltd. is a global investment firm that manages single-strategy funds and funds of funds for investors worldwide. Founded in 1999, Platinum Capital Management Ltd. is based in London, with affiliate offices in Isle of Man and Los Angeles.
Platinum's expertise in the research, development and implementation of unique alternative investment products derives from the aggregate investment experience of Platinum professionals. Platinum funds offer investors a range of investment strategies built on Platinum's commitment to delivering quality long-term investment success and a culture that embraces the continual enhancement of its investment selection, asset allocation and ongoing risk management capabilities.
Platinum Capital Management Ltd. is Authorised and Regulated in the UK by the Financial Conduct Authority (FCA). Platinum is also a member of many prominent industry associations, including AIMA, GARP and HFA, and a number of Platinum funds are registered with the Luxembourg Stock Exchange and are components of the Morgan Stanley Capital International (MSCI) Hedge Fund Index.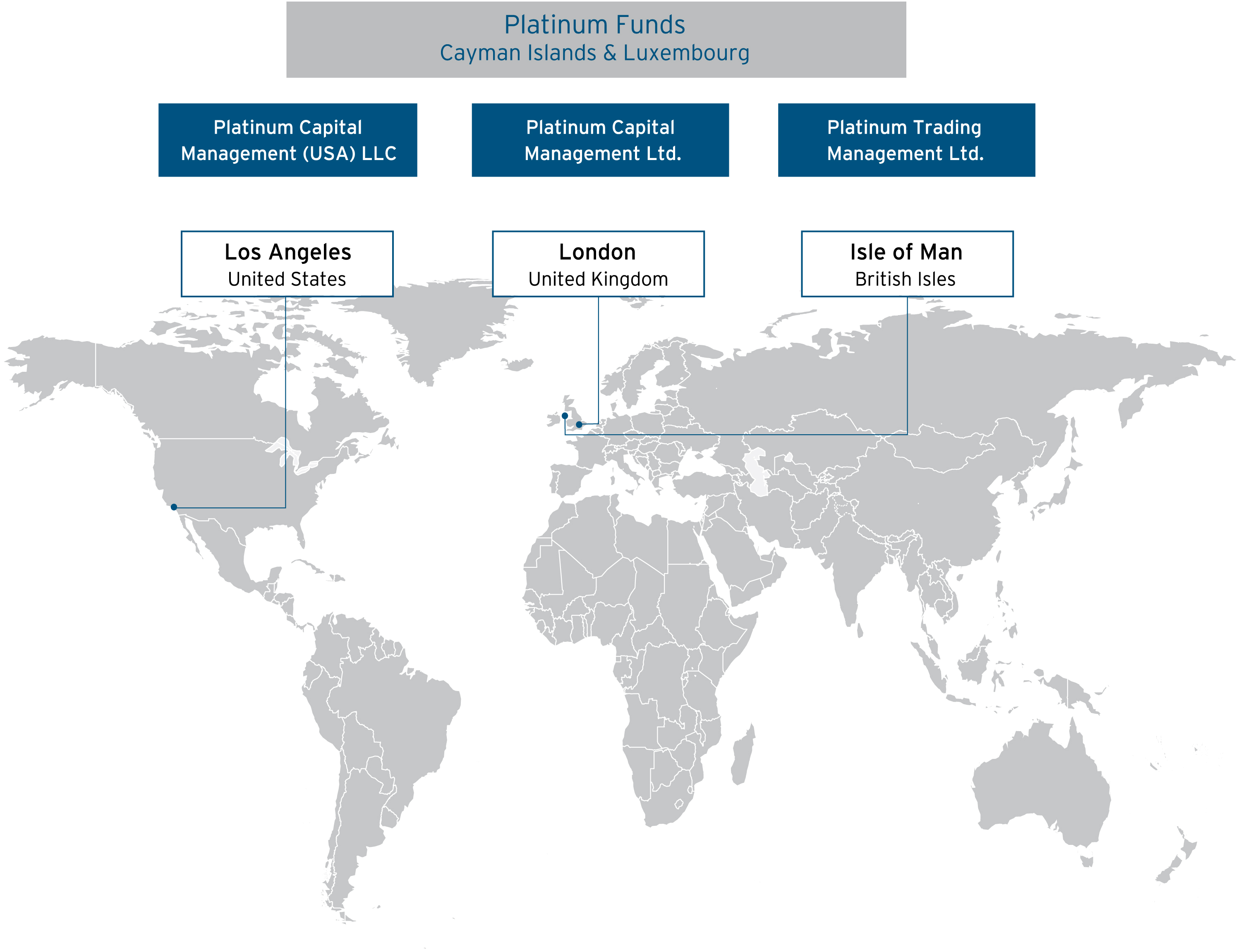 Peter Sprecher

Founder and Chairman of Platinum Capital Management Ltd, Platinum Trading Management Ltd, and Managing Member, Platinum Capital Management (USA) LLC. Peter founded Platinum in 1999 out of the Sprecher family office, where he has headed the family's stock, bond, venture capital, international real estate, and alternative investment activities since 1970. Platinum's organic growth has been the result of Peter's fundamental long-term investment values and unique investment experience. With more than forty years as a professional investor, financier and entrepreneur, Peter has been involved in a diversified range of industries, including consumer durable goods, manufacturing, rental and retail, real estate development, and the licensing of food production technology. Peter graduated from the University of Wisconsin at Madison with a B.S. in Political Science before attending the University of Southern California's Graduate School of Business MBA program. Peter currently serves as a trustee or director of several organizations, including as a Member of the Board of Directors of the University of California Los Angeles Health System, which is consistently ranked one of the top five hospitals in the United States.







Thea Sprecher

Managing Director and Member of the Investment Committee, Platinum Capital Management Ltd, and Managing Director, Platinum Capital Management (USA) LLC. Prior to joining Platinum in 2006, Thea's background in strategic marketing and communications spanned notable campaigns in the entertainment, retail, and luxury lifestyle industries. She was Co-founder and former Head of Sprecher Sawyer Marketing + Media and Co-founder of public arts advocate MakingArtWork. Thea received numerous awards and recognitions as a nationally ranked equestrian and served for four years as the first female captain of the varsity intercollegiate sailing team at the University of Pennsylvania, where she earned a Bachelor's degree in Political Science and was a member of the Tabard Society.






Bina Sanghvi

Chief Operating Officer and Director, Platinum Capital Management Ltd. Formerly Group Finance Director and Chief Operating Officer of Attica Alternative Investments, a fund of hedge funds. Prior experience includes serving as Investment Operations Director of Gensec International (a Group Company of Sanlam) and as Finance Director and Compliance Director at Quaestor Investment Management. With Platinum since 2005.






Tracey Harris

Global Head – Client Services, Platinum Capital Management Ltd. Joined Platinum in 2004, bringing with her a wealth of experience supporting clients, brokers and consultants. Served for twelve years with Sedgwick Limited as Senior Insurance Technician, 2 years as a Senior Associate with Standard Life Insurance Company, and 5 years with a large privately owned business overseeing all aspects of the business' external and internal accounting and personnel requirements.






Stuart Martin, Ph.D.

Chief Investment Officer, Director, and Member of the Investment Committee, Platinum Capital Management Ltd. Current Chairman of Investment Committee and Peckard Fellow, Senior Tutor and Director of Studies in Mathematics at Magdalene College (Cambridge) and formerly advisor to the Investment Committees of both Magdalene College and the University of Cambridge. Formerly Portfolio Manager at Key Asset Management and Senior Investment Manager at State Street Global Advisors (UK) Ltd. Prior experience as Investment Director at Quaestor Investment Management Ltd. Invited keynote speaker at various IIR, Inquire, Q-Group and AIMA conferences. Graduate degrees from University of Glasgow (MA), Balliol College, Oxford (D.Phil.), Magdalene College, Cambridge (Ph.D.). With Platinum since 2008.






Rohit Rana, CFA

Portfolio Manager and Head of Equity Research, Platinum Capital Management Ltd. Rohit originally joined Platinum as a summer analyst before accepting a permanent position as an equity research associate in early 2014. Today, Rohit is responsible for leading global equities research at Platinum and plays an integral role within Platinum's portfolio management team. Prior experience with the Internal Audit team at Aviva and as an analyst at Rothschild. Graduated from the University of York with a degree in Philosophy. Registered CFA charter holder.






Federico Corbari

Chairman of the Global Advisory Board, Platinum Capital Management Ltd. Federico brings to Platinum more than 20 years of experience in asset management, structured products, and alternative strategies. Prior to joining Platinum, Federico served as CEO of Superfund Italy and on the Board of Directors of the Superfund Group of companies. Prior to that, Federico was instrumental in registering several groundbreaking international investment products, including one of the first publicly offered fully systematic fund of hedge funds in Italy. In addition, Federico is the founder and director of Sunzi, a London-based consultancy firm for the financial industry specializing in structured products, asset management business development and international expansion. With Platinum since 2013.






Jeffrey Auld

Senior Investment Advisor, Platinum Capital Management Ltd. Jeffrey brings to Platinum more than 25 years of oil and gas industry and investment banking experience. Most recently, he was Head of EMEA Oil and Gas for Macquarie Capital (Europe) Limited. Prior to joining Macquarie, Jeffery was responsible for building and leading the EMEA Oil and Gas team for Canaccord Genuity in London. Jeffrey's investment banking career began at Goldman, Sachs & Co., where he was a member of the Energy and Power team both in London and New York. Jeffrey complemented his banking experience with time in the industry. He began his career in Canada before moving to London to join the New Ventures team at Premier Oil plc. Upon leaving Goldman Sachs, he returned to the oil industry, where he was a Senior Vice-President of PetroKazakhstan Limited, a NYSE listed oil and gas company with assets in Kazakhstan. In 2005, PetroKazakhstan was sold to CNPC for US$4.2 Billion. Jeffrey has an undergraduate degree in Economics and Political Sciences from the University of Calgary and received his M.B.A. with distinction from Imperial College Business School in London. With Platinum since 2012.






Jean-Marc Brisy

Senior Investment Advisor, Platinum Capital Management Ltd. Jean-Marc joined Platinum in 2016 from Even Keel Partners, where he was Co-Founder and Co-Head of Investments. Previously, Jean-Marc was Head of European Hedge Fund Manager Selection at Man Investments (London) and was in charge of one of the most active teams on early-stage investment. He was also a senior member of the Investment Committee and co-managed a $12bn high conviction portfolio with the largest in-house Managed Accounts platform. Prior to Man, Jean-Marc was Head of European and Asian Hedge Fund Equity Strategies at Olympia Capital Management (Paris and London). He was an active Investment Committee member and co-managed up to $5bn of both Hedge Funds and Long only diversified portfolios. Jean-Marc qualified in 1994 with honours from the University of Liege-Belgium, with a Masters in Finance.






Marcus Grubb

Non-Executive Director and Senior Investment Advisor, Platinum Capital Management Ltd. Director of Market Development at the World Platinum Investment Council and former Managing Director at the World Gold Council. Renowned by investors globally as the gold strategist and spokesperson for the global gold industry, Marcus was responsible for leading the World Gold Council's investment activities and gold-related product development for seven years. With twenty years' experience in investment banking and capital markets with JP Morgan, UBS, and Salomon, and as global head of equities at Rabobank on the investment bank Board, Marcus brings a wealth of transactional and management experience in gold, precious metals, mining and gold-related strategies. Marcus graduated from Oxford University with top first class honours in Modern History and Economics. With Platinum since 2014.






Paul Taylor

Director, Platinum Funds. Formerly Global Head of Portfolio Trading at Schroders Investment Management, where he was responsible for the global electronic training and risk program trading. Prior experience as Head of Portfolio Trading at JP Morgan, where he was responsible for risk and agency program, trading, derivative trading and European block trading. Previously Head Trader at the hedge fund manager Quaestor Investment Management. With Platinum since 2010.